VIDEO: WHITE HOUSE LAWYERS ISSUE CEASE-AND-DESIST ORDER TO STEVE BANNON
Date: 2018-01-04
---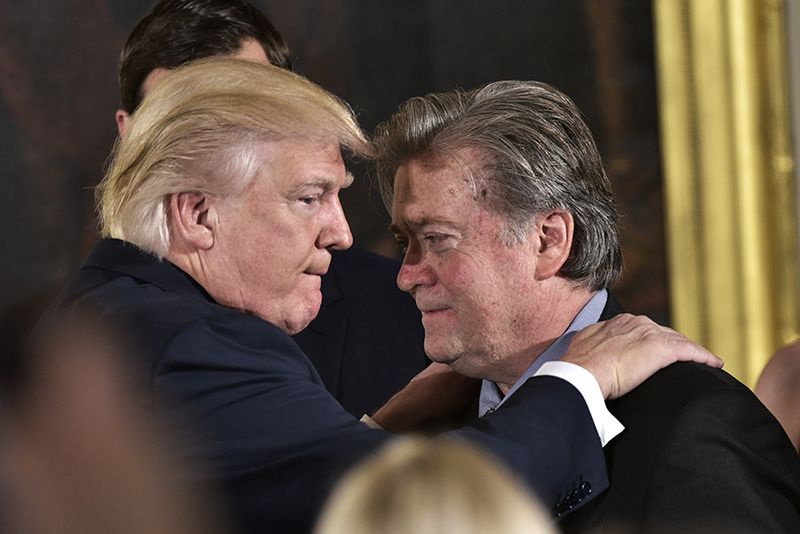 Lawyers for US President Donald Trump have accused former strategist, Steve Bannon, of violating a non-disclosure agreement.
They issued a cease-and-desist notice to Mr Bannon after speaking to the author, Michael Wolff, saying he had broken his employment agreement by speaking to Wolff about Mr Trump and his family.
The lawyer's letter said that "Disclosing confidential information" and "making disparaging statements and in some cases, outright defamatory statements to Mr Wolff about Mr Trump, his family members, and the Company", was in breach of his contract.
In his soon-to-be-released tell-all book, Mr Wolff describes the president as being unprepared for the job. In response, Mr Trump has said: "Steve Bannon has nothing to do with me or my presidency when he was fired, he not only lost his job, he lost his mind.
"Steve was a staffer who worked for me after I had already won the nomination by defeating seventeen candidates, often described as the most talented field ever assembled in the Republican party," he continued.
The book has caused quite a stir in the White House, with press secretary, Sarah Sanders, describing it as "filled with false and misleading accounts from individuals who have no access or influence with the White House.
"Participating in a book that can only be described as a trashy tabloid fiction exposes their sad desperate attempts at relevancy".
What is in the book?
The book, Fire and Fury: Inside the Trump White House, includes explosive claims, such as:
Mr Bannon thought a meeting between Donald Trump Jr and a group of Russians was "treasonous"
The Trump team was shocked and horrified by his election win
His wife, Melania, was in tears on election night
Mr Trump was angry that A-list stars had snubbed his inauguration
The new president "found the White House to be vexing and even a little scary".
His daughter, Ivanka, had a plan with her husband, Jared Kushner, that she would be "the first woman president"
Ivanka Trump mocked her dad's "comb-over" hairstyle and "often described the mechanics behind it to friends"
It also accuses the British intelligence services of spying on Trump and his campaign, alleging that – according to a report in The Times newspaper – former UK Prime Minister, Tony Blair, mentioned this to Mr Trump during a meeting last February and that Mr Blair was hoping to get a job advising Mr Trump on the Middle East. Mr Blair's spokesperson, however, told The Times that the allegations were a "total fabrication".
Ex-White House press secretary, Sean Spicer, told journalists back in March 2017 that UK intelligence services could have been involved in an alleged spying operation in New York's Trump Tower, allegations which have been called "nonsense".
A former columnist for New York magazine and Vanity Fair, the 64-year-old writer wrote a biography of media mogul Rupert Murdoch.
New York magazine, who was first to publish extracts of the book, said Wolff was able to take advantage of the Trump administration's political inexperience to gain an unusual amount of insight.
"There were no ground rules placed on his access, and he was required to make no promises about how he would report on what he witnessed," it says.
Following the president's inauguration, Wolff said he was able to take up "something like a semi-permanent seat on a couch in the West Wing".
Trump and Bannon
Mr Bannon was considered a key player in the Trump White House as the president's former chief strategist. Before leaving his post in August, he helped shape Mr Trump's "America First" campaign.
According to the BBC, "In April, Mr Trump had declined to affirm that Mr Bannon still had his support, removing him from his elevated role on the crucial National Security Council.
"He then appeared to downplay Mr Bannon's role, declaring in a New York Post interview: 'I'm my own strategist'.
"After leaving the White House, Mr Bannon returned to his role as the head of the right-wing Breitbart News website, where he said he planned to help Mr Trump's administration as a 'wingman outside'".
Check out the video below for more.