VIDEO: SETH MEYERS RESPONDS TO EMINEM'S ANTI-TRUMP RAP...
Date: 2017-10-12
---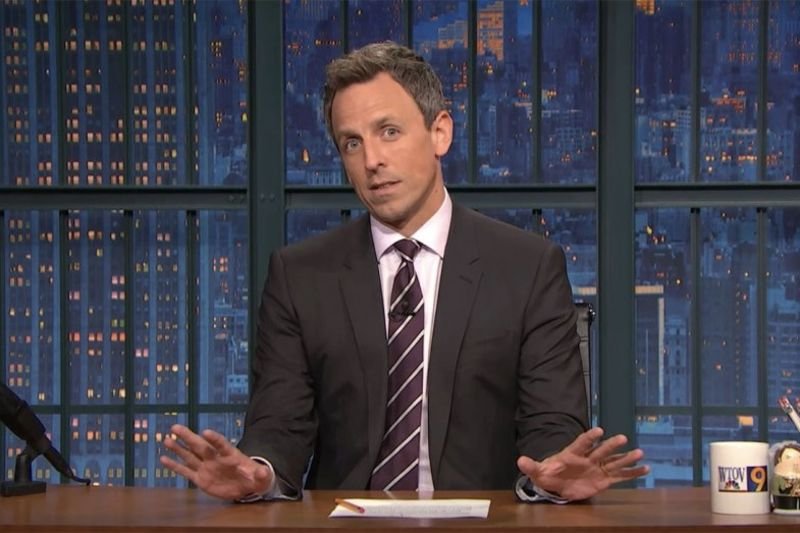 The late-night host had some words for the Trump supporters after he felt inspired by rapper Eminem's anti-Trump cypher during Tuesday nights BET Awards.
On Wednesday's Late Night, Seth Meyers addressed Eminem's freestyle takedown of President Donald Trump, saying, "Powerful stuff. To any fans of this show who are also fans of Donald Trump, it's time to make a decision, guys."
"Do you support him or do you support this show that constantly mocks and denigrates everything about him?" Meyers asked his audience. He then tried his own hand at dropping rhymes: "My name is Seth and I'm here to say, if you like Trump then go away."
For Eminem, a Grammy-winning recording artist and lyricist, the previous night's freestyle rap was a bit more scathing: "When he attacks the NFL so we focus on that/Instead of talking Puerto Rico or gun reform for Nevada/All these horrible tragedies and he's bored and would rather/Cause a Twitter storm with the Packers/Then says he wants to lower our taxes."
Meyers was not the only host across the late-night dial to address Marshall Mathers' rap, Jimmy Kimmel also name-dropped the rapper in his opening monologue. "The big story out of BET last night was Eminem launching a five-minute freestyle attack on Donald Trump," Kimmel said as he took the stage. "It was very well-done. He even found a way to rhyme the word "orange" — which had been previously thought impossible."
Watch Meyers' and Eminem's video's below: