VIDEO: VAN MOUNTS PAVEMENT KILLING 9 AND INJURING 16 IN TORONTO
Date: 2018-04-24
---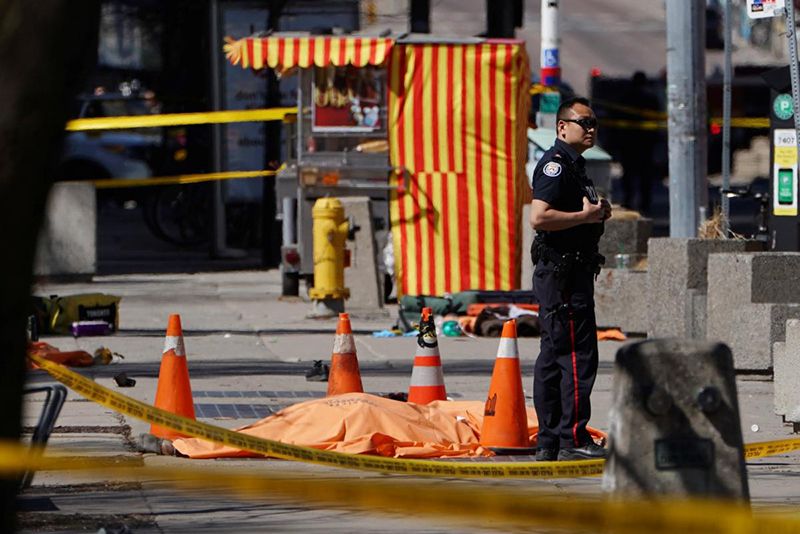 Toronto police have said nine people were killed and 16 injured after a man drove a van into pedestrians.
The driver fled the scene of the incident but was arrested after a tense standoff with officers several streets away.
According to the BBC, bystander videos appeared to show the driver pointing an object at the officers, who can be heard shouting at him to get down although the man was detained without any shots being fired.
Video shop owner, Reza Hashemi, said he heard screaming on the other side of the road and then witnessed the driver mounting the pavement, run into people, and return to mount the pavement again.
The crime scene encompassed a 2km (1.24 mile) stretch of Yonge Street, Toronto Deputy Chief, Peter Yuen, has asked any witnesses to come forward. It is not clear if this was a deliberate attack.
Pictures of the scene showed armed police and paramedics treating the injured with the help of bystanders. One orange bag, which appeared to contain a body, was loaded on to an ambulance.
Speaking to CBC News, Toronto police spokeswoman, Jenifferjit Sidhu, said the vehicle was stopped by police but no description was given of the driver.
Canadian Prime Minister Justin Trudeau tweeted from Ottawa: "Our thoughts are with all those affected by the terrible incident at Yonge and Finch in Toronto."
"Thank you to the first responders working at the scene – we're monitoring the situation closely."
An unnamed witness who was driving behind the van during the incident said the driver was "hitting anything that comes in the way. People, fire hydrants, there's mailboxes being run over".
As the van continued, the man said he sounded his hooter to try to warn pedestrians. "I witnessed at least six, seven people being hit and flying in the air, like killed, on the street," he said.
Toronto Mayor, John Tory, called it "a very tragic incident," and has "offered any and all assistance that the city can provide to the police to help this investigation".
There has been an increase in cases of driving attacks in the US and Europe in recent years, most recently, in October 2017, when a man drove a van down a bicycle path in New York, killing eight people.