ZUMA RETURNS TO COURT TO FACE CORRUPTION CHARGES
Date: 2018-04-09
---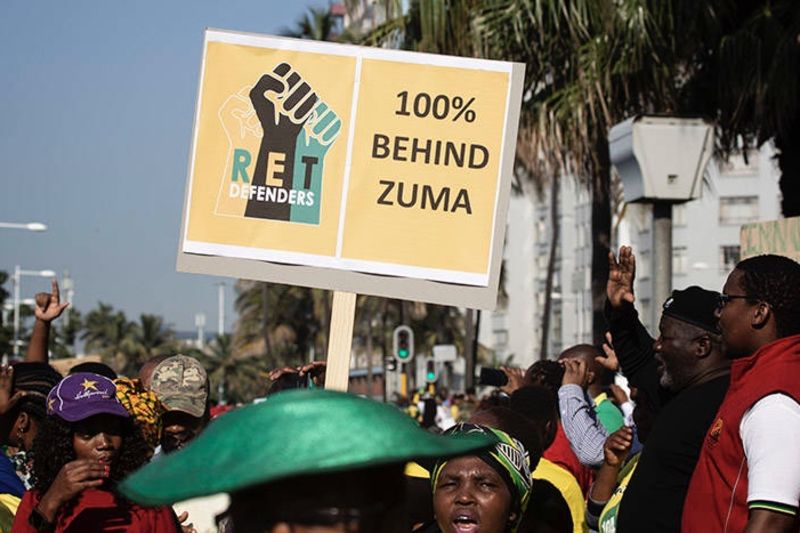 Zuma stepped into the KwaZulu-Natal High Court in Durban on Friday wearing the African National Congress (ANC) colours of green, gold, and black.
He made his way past supporters in the public gallery who chanted: "Zuma! Zuma! Zuma!", he addressed them saying: "One day they will wish [the case never] continued". He also had the support of senior ANC leaders in the province as well as former Cabinet ministers. Carl Niehaus and Mabel Rweqana from the Umkhonto weSizwe Military Veterans' Association were in court too.
The proceedings of the hearing only lasted 10 minutes and was postponed to the 8th of June for Zuma to face 16 charges relating to 783 payments he allegedly received in connection to the controversial arms deal. Zuma's legal representative said that he plans to submit an application to review the grounds on which NPA boss Shaun Abrahams decided to prosecute him. The application is expected to be filed on May 15.
Zuma claims that his name has been dragged through the mud and that the ANC has betrayed him. He also claims that the case had been revisited due to political reasons saying that he had been to court 13 years ago for the same charges. He believes that the opposing parties have pushed the government into sending Zuma to court and said that this was because they failed in parliament. He claimed his innocence to his crowd of supporters saying: "Our country's Constitution states that the accused is innocent until proven guilty. However, there are some people, even people whom I trusted, who have judged me as guilty already. The truth will be revealed in time. Your presence here shows that you understand the Constitution and law that well."
Zuma's fate may set the bar for future corruption charges which President Rhamaposa claimed to set strict boundaries against in his state of the nation address.