WHAT YOU NEED TO KNOW ABOUT THE SATE VS JACOB ZUMA
Date: 2018-06-08
---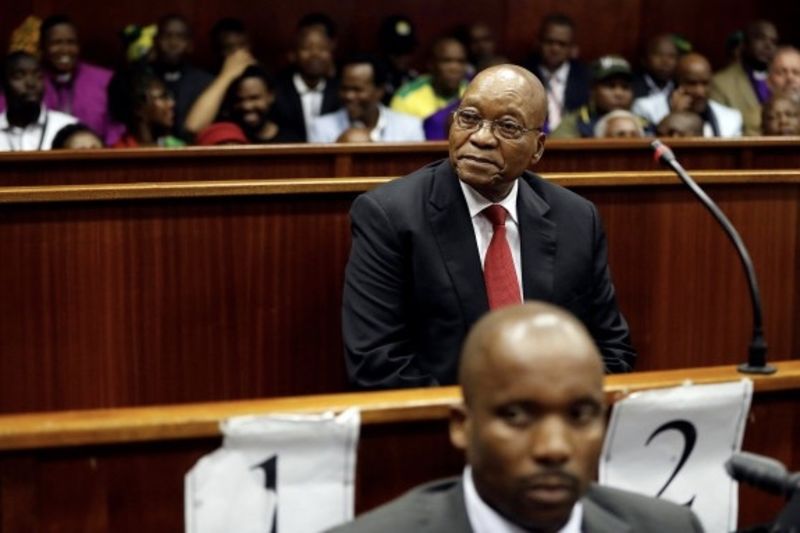 Former South African President, Jacob Zuma appeared in the Durban High Court this morning on corruption charges.
Here are 10 things you need to know about The State vs Jacob Zuma:
1. DA has been fighting for nine years for Zuma to have this day in court, in connection with "spy tapes" saga, which states that is has amounted to R10 million in litigation costs.
2. For years now, many believe Zuma is facing 783 charges, but "783" is the number of payments his former adviser, Schabir Shaik, made to him.
3. Jacob Zuma is only facing 16 charges, while his co-accused in the case, arms deal manufacturer Thales, is facing a total of two charges, which makes it an 18-charge incident.
4. In 2009, all the charges against Zuma were withdrawn in Durban.
5. In April 2009, the National Prosecuting Authority (NPA) head Mokotedi Mpshe, decided not to prosecute Zuma after transcripts of telephone conversations between, then Scorpions boss Leonard McCarthy and former NPA boss Mpshe, showed political interference in the decision to charge Zuma.
6. Advocate Kemp J Kemp, SC, – Zuma's legal representative – made an about-turn at the Supreme Court of Appeal in October 2017 and said that he believed that the NPA had erred in its decision to drop the charges against Zuma.
7. Zuma made representations to the NPA, after which the NPA boss Shaun Abrahams announced that the charges against him would be reinstated. Zuma would be prosecuted for one count of racketeering, two counts of corruption, one count of money laundering and 12 counts of fraud.
8. The State has narrowed down the witnesses in the Zuma case to a total of 207. However, Shaik who was convicted for the alleged payments between Zuma and Thint – is not on the list, as reported by News24.
9. In March, Zuma appeared in the Durban High Court, and Zuma's legal team said that he will seek a review of National Director of Public Prosecutions (NDPP) Shaun Abrahams' decision that there was no reason for him not to stand trial on 16 corruption charges. Zuma was supposed to make representations to the NPA on this by May 16 but failed to do so.
10. On Tuesday, Abrahams turned down the request for Zuma to have more time.