39 DEAD AFTER FIRES RAVAGE PORTUGAL AND SPAIN
Date: 2017-10-17
---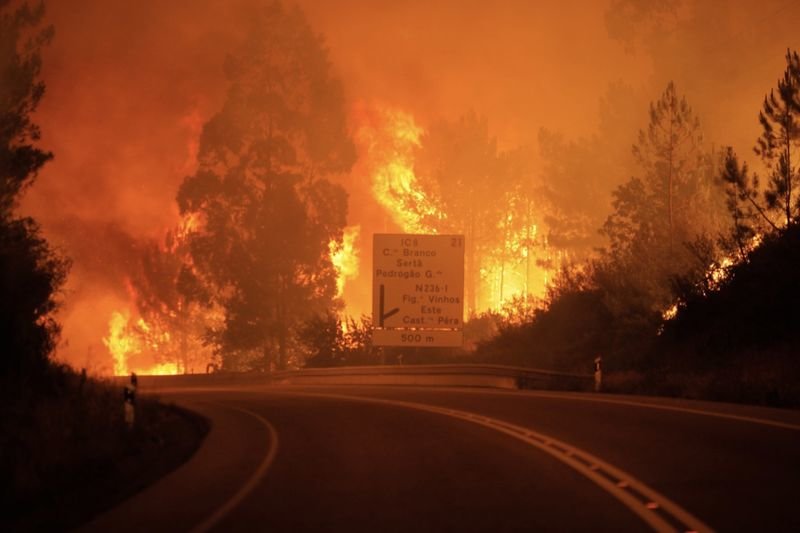 At least 36 people have been killed after wildfires raged through parched farmland and forests in Portugal and another three in neighbouring northwestern Spain on Sunday and Monday.
Firefighters were battling blazing hot flames in Portugal and Spain, and the government asked for international help after declaring a state of emergency in territory north of the Tagus river.
Television footage showed abandoned villages with many houses in embers and charred vehicles left abandoned on the roads.
The media and Portugues opposition parties harshly criticised the government for failing to prevent the wildfires after the country's worst-ever forest fire in June that killed 64 people.
"It's a structural problem that we are facing... This is not a time for resignations, but for solutions. Everything has to be transformed into reforms, to provide responses that the country needs so that nothing stays the way it was after this year," he told reporters after a television address to the nation.
"We are aware that the country wants results from us and we're running against time after decades of negligence," Prime minister Antonio Costa told reporters after his address.
At the heart of the problem is poor land management, traditional small plots have become fire hazards after being abandoned by generations of landholders that moved to the cities.
Portugal's fires have burned over 40 percent of the total in all of the European Union this year. With just 2.1 percent of the EU's landmass, Portugal suffered the biggest fires during 2008-16 as well, with an average of 36 percent of the total.
Most of the fires in Galicia were started deliberately, said Alberto Nunez Feijoo, head of the regional government.
Spanish Interior Minister Juan Ignacio Zoido said some of those responsible had already been identified. They could face up to 20 years in jail if convicted. At least two people were arrested in Portugal for allegedly starting the fires.