BIKER STOPS A SMASH AND GRAB – VIDEO CAUGHT ON HELMET GOPRO
Date: 2018-09-11
---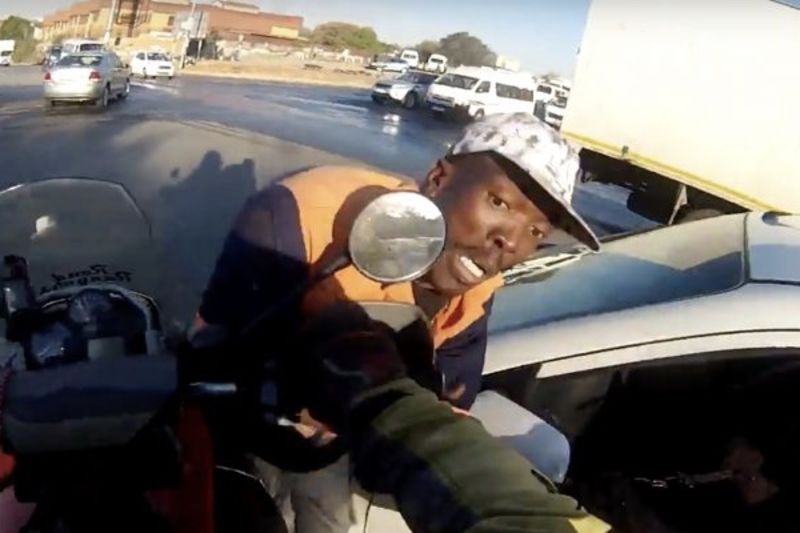 A looter was in the process of performing a smash and grab during peak hour traffic yesterday afternoon the 10th September at the corner of London Road and 13th Avenue in Alexandra when a brave biker by the name of Anton Damhuis saw what was unfolding in front of him.
Just as the thief was about to run away with what looked like a handbag, Anton's quick thinking led him to take action and ram his bike into the thief. The thief managed to get away, however, in a quick chase with Anton's bike the thief gave up, and what we now know as a laptop bag with a laptop inside was left at the scene as the thief ran away in fear of being caught.
Thanks to Anton Damhuis persistent chase to catch a robber, the victim -who was clearly in shock from the ordeal- was only left with a smashed passenger window as his valuables were returned to him almost immediately.
The video was posted on YouTube by the biker himself and in the comments section a man by the name of Phillip Coetser who claims to be the victim says: "My friend, I was the man in the car and I want to really thank you for intervening. Sorry, I did not thank you yesterday, but I was in a bit of a shock. I eventually ran over him with the car (and unfortunately my laptop). Pity you did not see that 'cause I think you would have enjoyed it. And the dent in the car is a minor price to pay for my safety and protection. May the God that created heaven and earth bless you abundantly in the name of His Son, Jesus Christ!"