HANNAH CORNELIUS: THE STATE'S VERSION OF HER FINAL HOURS
Date: 2018-06-11
---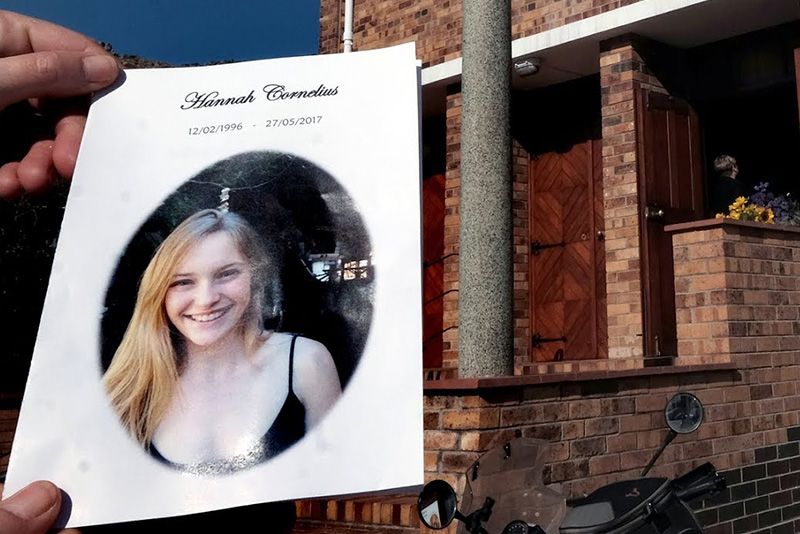 According to details in the indictment of the case against Vernon Witbooi, Geraldo Parsons, Eben van Niekerk and Nashville Julius, the accused beat Hannah Cornelius, a student in Stellenbosh, into submission before kidnapping, raping and murder her.
On Monday, although they face charges including murder, aggravated robbery, kidnapping and rape, their trial in the Western Cape High Court was postponed to October 8 this year as no judge was available to hear the matter.
Details included in the indictment read that Cornelius and her friend, Cheslin Marsh, were in her VW Citi Golf at the corner of Jan Celliers and Bird streets in the early hours of May 27, 2017, when they were accosted.
It was then that Cornelius was threatened with a screwdriver and beaten into submission while Marsh was forced into the back seat of his friend's car at knife-point.
As Cornelius was stuffed into the car and robbed of her purse and cellphone, Marsh's clothes, cell phone, wallet, longboard, backpack and earrings were forcefully taken from him. According to the report, Julius left the scene after the robbery.
It is alleged that Witbooi, Parsons and Van Niekerk then drove to another location in Stellenbosch, where Marsh was forced into the boot before they travelled to Kraaifontein. This is where Marsh was assaulted, stoned with bricks and left for dead.
From there, the accused drove Cornelius to a bush near a paintball range in Bottelary Road where they raped her. Afterwards, she was taken to an area in Stellenbosch, near the Groenhof Farm, where she was stabbed twice in the neck and had a "big rock" thrown at her, resulting in severe blunt force trauma to her head and body.
Not content with their actions, the three accused apparently went on a crime spree in Northpine Drive, between Brackenfell and Kraaifontein, assaulting and robbing a woman of her bag, two cellphones, pearls and wallet. They then drove to Soneike in Kuils River, assaulted another woman and forced her into Cornelius' car before driving to an ATM and robbing her of R3 000 in cash, two cellphones and her wedding ring in Brackenfell.
Later that day, Cornelius' car was spotted and a chase ensued, resulting in their arrest on their way back to Stellenbosch.
Prosecutor Lenro Badenhorst stated that Marsh, one of the State's main witnesses, has applied to work in the US – should he leave before the trial, necessary arrangements would have to be made for him to return to testify.
Badenhorst also said that Dr Marianne Tiemensma, the district surgeon who took the accused's DNA, has immigrated to Australia and that, unless admissions were used, arrangements would have to be made to allow her to testify too.
Retired Simon's Town magistrate Willem Cornelius is the father of the victim. Less than a year after Hannah's murder, her mother, Anna Cornelius, 56, was found dead in Scarborough.