INNOCENT PASSENGER INVOLVED IN THE UBER WAR
Date: 2017-10-24
---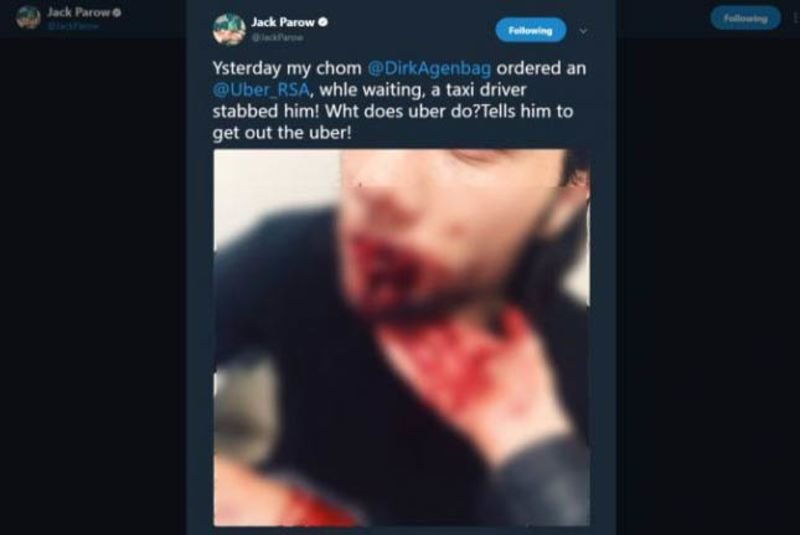 The war between Uber and metered taxies wages on and has now lead to an attack on Uber customers!
The war started as the metered taxi drivers expressed outrage claiming that Uber was "stealing" their customers and escalated the situation by petrol bombing Uber cars.
Uber drivers now refuse to take customers near the "hotspots" including Gautrain stations, Sandton CBD and Airport drop off zones. Uber drivers are also getting attacked and fear for their own safety when working.
On Sunday evening, Dirk Agenbag was stabbed several times in the face as he was trying to get into his Uber. In an attempt to get to safety he jumped into his Uberas the attacker casually walked away from the scene. The Uber driver allegedly complained that Dirk was bleeding on his seats and wanted nothing to do with him. The Uber driver then forced Dirk to exit the Uber, driving off without even helping him.
Dirk's friend, South African musician Jack Parrow posted a picture of his wounds, expressing his outrage regarding the attack, as well as the Uber driver. Uber responded and have claimed to have started an investigation into the matter between the driver and Dirk.
Has the situation now gone far enough that terrified customers will force police to take action?