MAMELODI SUNDOWNS TOLD TO GO GENTLY ON BARCELONA
Date: 2018-05-17
---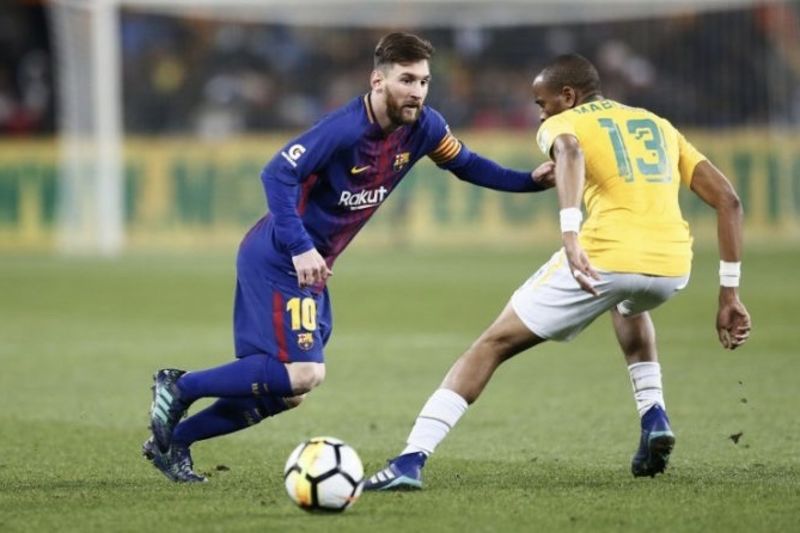 The FNB stadium was packed as 90 000 fans crowded in to watch South Africa's Mamelodi Sundowns play against Italy's FC Barcelona – who they appeased the crowd by playing all of their most famous players.
The team arrived in South Africa on Wednesday morning to play the match the same evening. After chants from the crowd prompting Messi onto the field, he emerged to warm up 65 minutes later with fans cheering madly. However, one fan got a little too crazed and decided to jump over the fence to get closer to him but he didn't get very far until he was tackled by a group of security guards.
Aside from the escaped fan, the game went smoothly for Barcelona who scored in the first two minutes of the game courtesy of Ousmane Dembele, and were up 0 – 2 by halftime with Luis Suarez scoring their second goal. Barcelona coach Ernesto Valverde moved the players around at the start of the second half but Messi was only on the field in the 73rd minute. Andre Gomes caught the Sundowns' defence by surprise and managed to score a goal in the 66th minute.
Sundowns pushed back hard and managed to score a goal in the 75th minute thanks to Sibusiso Vilakazi. Messi appeared to hold back in the game but many predict he is reserving his match face for the preparation for the World Cup. Mamelodi Sundowns were also allegedly instructed to not kick Barcelona or play a rough game because most of the players were due to go to the Russian World Cup and didn't want any injuries that might affect their chances.
Sundowns held back and played a game with less contact than normal in a competitive game, with coach Pitso Mosimane saying: "Ja' first' it was a good game. Second' 80 or 90 percent of the [Barcelona] team who came here you will see in Russia'" Mosimane said. "So we don't want to be party-poopers' and then you kick somebody out of the World Cup because you have to kick' or you want to play too strong. So I said to the guys that' 'For us to see a good game of football here' not to say that we should allow them to have a party' but I'm saying we should not kick'. I don't think that there was a yellow card. [And] there was no need for that. If we played in the Fifa Club World Cup we would play differently. We would go all the way. But' they also did not kick us' remember. But I think what I like is a game of good football. I think you saw the combination plays' the passing patterns. You saw that football is not played at 100 kilometres an hour."
Barcelona is heading to Russia to see the kick off of the World Cup on the 14th of June and ending off with the finals on the 15th of July.