SAFTU STRIKE WILL NOT BE SUPPORTED BY COSATU
Date: 2018-04-24
---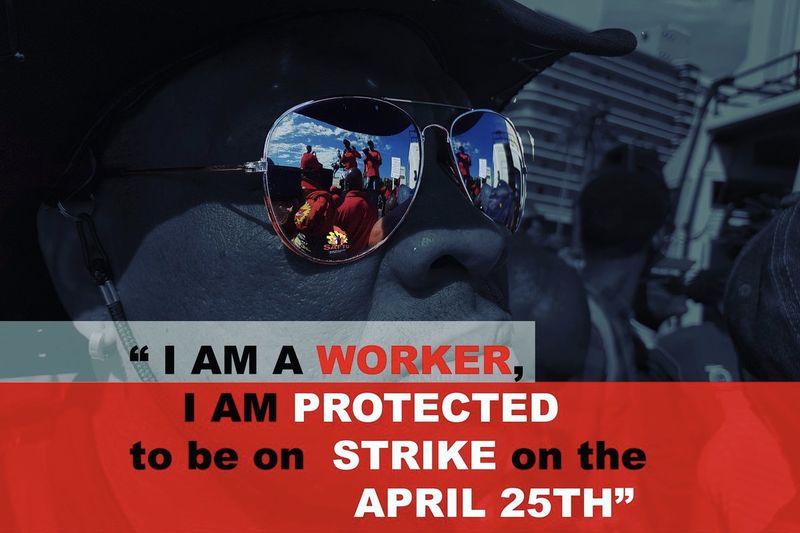 The South African Federation of Trade Unions (Saftu) has been hinting on Twitter about how civil society is prepared to support the strike on April 25.
Press Conference
Support is growing daily and we are confident that we shall bring S.A to a standstill & fill the towns & villages with angry workers, employed & unemployed, member of all unions or none, #SAFTUSTRIKE #Scrapnewlabourlaws#Defendtherighttostrike

— SAFTU (@SAFTU_media) April 23, 2018
However, Congress of South Africa Trade Unions (COSATU) will distance itself from the planned national strike against a proposed minimum wage and amendments of about laws.
SAFTU will embark on the general strike on Wednesday over what it termed "the biggest attacks on working-class people, trade unions and the poor" since the end of apartheid.
The union has slammed a planned national minimum wage of R20 per hour or R3,500 a month and amendments to labour laws, and is also angry over economic hardships facing workers and the poor.
The federation said it would rally its affiliates and allies in civil society to demand "action to end the country's crisis of unemployment, poverty and inequality" and urged unions aligned to COSATU to also join.
But COSATU said it was concerned by "misleading statements" for some SAFTU leaders over its participation.
"We want to make it clear that ... COSATU is not part of the planned strike. We condemn the mischievous attempt to confuse our members by Saftu," said the federation in a statement.
"COSATU supports the national minimum wage and we have no reason to strike over something that will benefit the workers.
"The minimum wage will be a huge achievement that will see wages rise for the 47 percent of workers, or six million, who earn less than R20 an hour currently. This represents the foundation that will help us build towards the goal of a living wage."
COSATU said Wednesday's planned strike was based on "fabrication, misrepresentation and outlandish conspiracy theories".

The details of the marches on 25 April are (all at 10h00):
Johannesburg: Assembling at Newtown Precinct Park. Marching to the Department of Labour, the Provincial Department of Health and the Premier's Office
Cape Town: Assembling at Keizersgracht. Marching to the City of Cape Town offices and Parliament.
Port Elizabeth: Assembling at Vusi Dlamini Square. Marching to Centenary Hall
Bloemfontein: Assembling at Batho Hall. Marching to Department of Labour at 1h00
Polokwane: Assembling at SABC Park. Marching to the Departments of Labour and Social Development
Durban: Assembling at Botha's Place. Marching to Durban City Hall, Departments of Labour, Economic Development and the Premier's and Mayor's offices