THAILAND CAVE RESCUE: ALL 12 BOYS AND THEIR COACH RESCUED
Date: 2018-07-10
---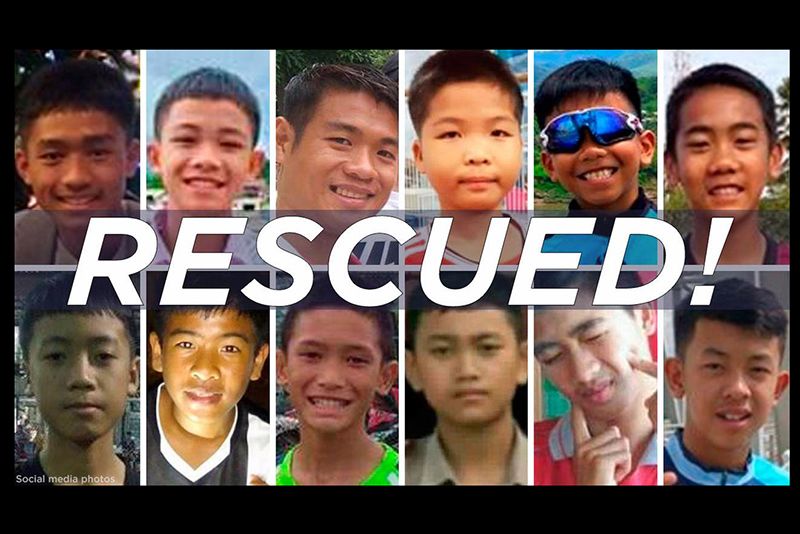 Divers have rescued 12 boys and their football coach 17 days after they got trapped in flooded caves underground in northern Thailand.
The world's attention has been gripped by both the predicament the group found themselves in as well as the critical work rescuers faced to free them.
Members of the Wild Boars football team, aged between about 11 and 17, entered the cave system in the province of Chiang Rai during an excursion with their coach.
On 23 June, the group got stuck 2,5 miles inside the cave after heavy rains caused flooding and cut off their route out. Nine days later, British divers found them huddled together on a ledge in the darkness, completely cut off from the outside world.
After considering supplying them with food and supplies to see them through the next four months of the monsoon season, the decision was made to extract them before the weather deteriorated even further.
It was a highly risky situation as most of the boys couldn't swim and had no scuba-diving knowledge. The rescue was complicated by sections in the cave that involved diving, climbing and crawling, occasionally in a very confined space, using guide ropes already in place.
The first of the boys were brought out on Sunday and the operation continued until the last of the group were freed on Tuesday evening.
All of the boys, including the first eight to be rescued on Sunday and Monday, are still in hospital but said to be in good mental and physical health.
According to the BBC, they have undergone X-rays and blood tests and will remain under observation in hospital for at least seven days.
The Thai Navy Seals confirmed the completion of the rescue operation when they announced on their Facebook page: "All 12 Wild Boars and coach have been extracted from the cave. All are safe."
To find out more about the team and how the rescuers planned their extraction, please click to see our previous coverage.