Home
/
News
/
News
/ The Botswana Meteorite Was Spotted Hours Before Entering The Atmosphere And Has Now Been Found
THE BOTSWANA METEORITE WAS SPOTTED HOURS BEFORE ENTERING THE ATMOSPHERE AND HAS NOW BEEN FOUND
Date: 2018-07-13
---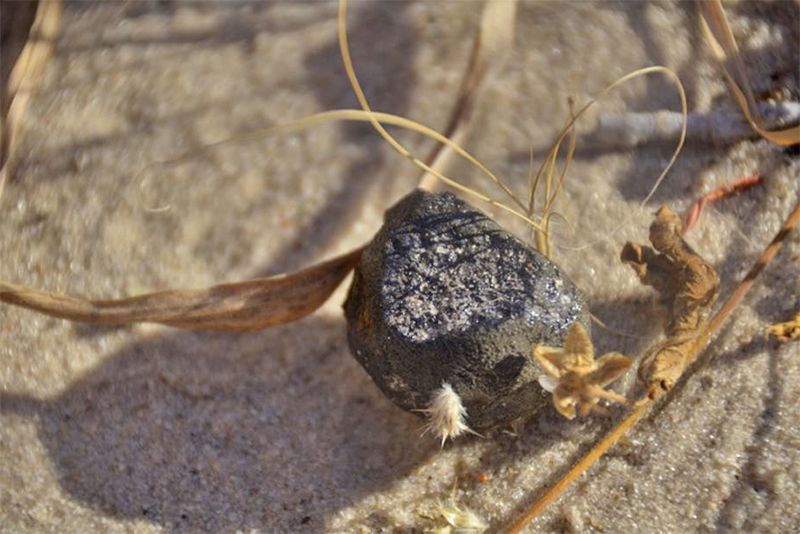 Fragments of a meteorite that observers spotted before it entered the atmosphere and exploded have been recovered in Botswana – making it only the second time in history that this has been achieved.
The meteorite, named 2018 LA, scattered over a wide area in Botswana's Central Kalahari Game Reserve. Alexander Proyer, professor of petrology, and Fulvio Franchi, a senior lecturer from the Botswana International University of Science and Technology recovered the rock.
According to an interview published in The Conversation, the two believe this was only the second time a fragment has been recovered from a meteorite seen before it entered the atmosphere.
NASA's Planetary Defence network, a network of observatories that search for near-earth objects, detected the asteroid hours before it reached Earth.
Poyer said, "Finding a fresh one is rare but what makes this case really sensational, is not the fall itself but the fact that we knew it was coming. Usually, people are taken by surprise, seeing a flash of light or fireball when the asteroid enters the atmosphere. But this one was observed in space, eight hours before it collided with Earth".
He goes on to say it was the very same asteroid that was caught on security footage on 02 June.
"According to eye-witness reports from a camp relatively close to the fall area, it made the night bright as day and gave some thundering and shot-like noises that made the ground tremble. There was more security camera material from Maun and Rakops of that day, the 2nd of June, that helped narrow down the search area," said Proyer.
It was 27 kilometres above Earth when the meteorite exploded, resulting in fragments scattering over a wide area of land.
According to Franchi, the researchers required special permits to search the reserve, as well as permission to retrieve the fragments, "You cannot just pick up a meteorite and own it – at least not legally. Meteorites are considered relics by law and are to be handed over to the National Museum".
The team needed park rangers to chaperone, for protection against lions, elephants, snakes and scorpions as they walked for days in the territory.
"An unexpected challenge was to have millions of other objects looking similar to a typically dark meteorite at first sight: pieces of burnt wood (from bushfires) or animal dung," said Franchi.
He also said that the composition of the recovered fragments could give scientists a glimpse into the history of our solar system. "We can consider this event as a free-of-charge delivery of material from space that would otherwise require a highly expensive space mission to recover".
It was said that studying the details of the material composition of the meteorite could help computer programmes predict the trajectory of other meteorites and what could happen if we tried to blow them up using missiles. It could also help with the future detection of larger, rogue asteroids, possibly on a collision course with Earth.