UNDOCUMENTED TEEN MUST BE ALLOWED AN ABORTION
Date: 2017-10-25
---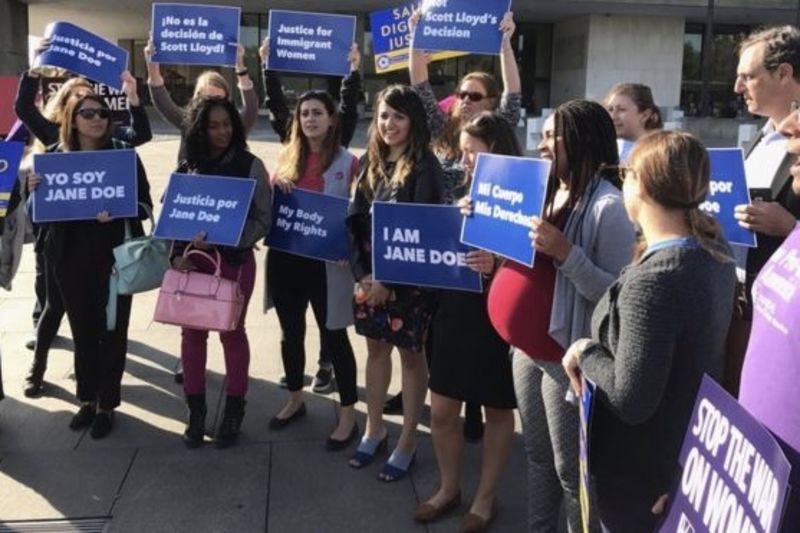 The Trump administration cannot prevent a teenage undocumented immigrant from obtaining an abortion in Texas, an appeals court has ruled.
Jan Doe, who is a 17-year-old, is 15 weeks pregnant and requested an abortion at the government-funded shelter where she was placed after being apprehended near the Mexico border.
There is a new policy implemented by the Trump administration, that denied her access to the clinic. According to the American Civil Liberties Union (ACLU), Jane Doe came from an abusive home in an unnamed country in Central America. The ACLU says, because she is an unaccompanied minor, Jane Doe was transported to a government-funded shelter in Brownsville, Texas, under the jurisdiction of the Office of Refugee Resettlement (ORR).
While in ORR custody, Jane Doe was given a physical and told she was nine weeks pregnant.
She asked the shelter staff to help her arrange an abortion but, under the Texas law, minors must obtain parental consent in order to have the procedure.
The shelter connected Jane Doe with lawyers and in late September she obtained a judicial waiver and had an appointment at a local abortion clinic for 28 September.
But, the day before her appointment, she was denied transportation to the clinic after ORR officials intervened.
"The federal government is holding Jane Doe hostage and preventing her from having an abortion," said Brigitte Amiri, senior staff lawyer for the ACLU. "It is blatantly unconstitutional."
According to a new policy implemented by the Trump administration, no federally funded shelter can assist a minor in their custody to obtain an abortion without written authorization from E Scott Lloyd, the director of the Office of Refugee Resettlement.
Mr Lloyd has long been a staunch pro-life advocate. The lawsuit alleges that he has personally contacted pregnant minors in ORR custody to persuade them not to go through with abortion procedures.
According to court filings, Jane Doe was taken to a so-called "crisis pregnancy centre" where she was given an ultrasound and advised on alternatives to abortion.
Her mother was also notified about the pregnancy, against Jane Doe's wishes.
Meanwhile, her pregnancy is at 15 weeks - abortions are illegal in the state of Texas after 20 weeks.
Lawyers for the US government argued that they were not preventing Jane Doe's access to an abortion.
They said she could leave the country or be placed in the care of a sponsor. According to her lawyers, no viable sponsor has been approved for the teenager after a seven-week search.
On October 18, US District Court Judge Tanya Chutkhan agreed with the ACLU and ordered that the teenager is transported "promptly without delay" to a clinic.
"I'm astounded that the government is going to make this 17-year-old girl, who has received judicial authorization for a medical procedure to which she is constitutionally authorized, to choose between a pregnancy that she does not want to go forward with to term or returning to the country from which she left," said Judge Chutkan.
The ACLU filed an emergency appeal to a full panel of 10 judges, which today ruled that the original district court's ruling should stand, and Jane Doe should be transported from the shelter to have the abortion.
The federal government could still appeal to the US Supreme Court.
Lawyers for the ACLU said they would proceed with a class-action lawsuit on behalf of all undocumented minors in federal custody who may seek abortion services.
Meanwhile, Jane Doe's advocates are making her a second appointment at an abortion clinic.
"She is brave and courageous and resilient," said Ms Amiri, the ACLU lawyer.
"She is also tired by the entire ordeal."