Home
/
News
/
News
/ Video: 6.4 Magnitude Earthquake In Taiwan Leaves Hundreds Trapped In Collapsing Buildings
VIDEO: 6.4 MAGNITUDE EARTHQUAKE IN TAIWAN LEAVES HUNDREDS TRAPPED IN COLLAPSING BUILDINGS
Date: 2018-02-07
---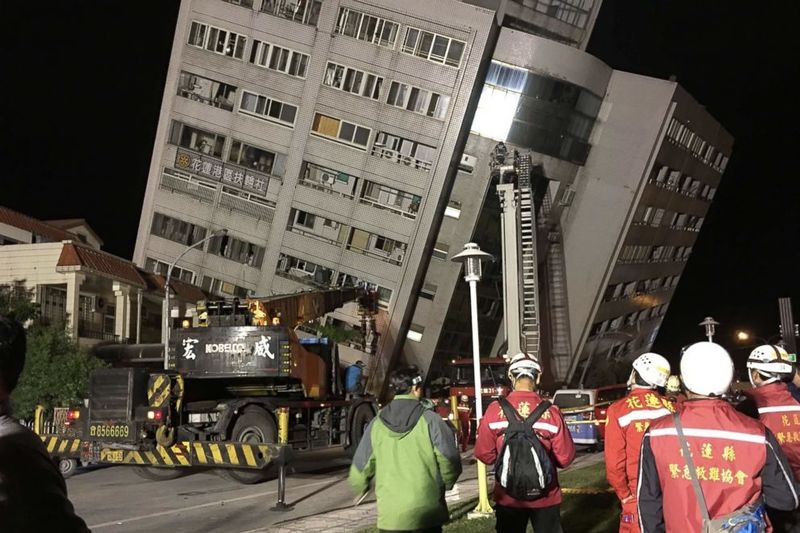 Taiwanese rescuers are on a frantic search for 145 missing people after a 6.
4 magnitude earthquake struck Taiwan. The earthquake struck just before midnight 22km northeast of Hualien, affecting 100 000 citizens and, with a shallow epicentre of 1km, shaking buildings which now lie at dangerously skewed angles. At least four deaths have been confirmed thus far and the search continues while 225 injured people are being treated.
Four buildings and a hotel in the area have caved in, trapping people on the lowest floors among heaps of concrete and fallen iron beams. Residents trapped on the upper floors of buildings are being rescued by firefighters with extended ladders and are doing everything they can to evacuate everyone. Electricity and water supplies have been obstructed as well as limited access to the city due to buckled roads from the quake.
An unknown number of the 173 people that were in the Yunmen Cuiti building are stuck in the 12 story building and cannot be reached. A fatal collapse of the Marshal Hotel caused two deaths and a maintenance worker, once rescued from the rubble, reported on the earthquake saying: "At first it wasn't that big ... we get this sort of thing all the time and it's really nothing. But then it got really terrifying, It was really scary." Many other buildings have been deemed unsafe as they have shifted on their foundation and bridges have been closed off and are currently under inspection to ensure they are safe to use.
Citizens who managed to escape buildings are gathering in shelters and safe open areas like stadiums due to the aftershocks, they are being provided with food and a place to sleep. Taipei crisis centre Cabinet spokesperson, Hsu Kuoyung, reported that the rail links and airport runway was intact but the priority was to ensure the safety of the citizens in Hualien and reuniting families and loved ones. The government has requested the cabinet to launch the "disaster mechanism" and focus on disaster relief work.
Taiwan was struck by another 6.4 magnitude earthquake in February 2016 causing over 100 deaths due to the complete collapse of a 16–storey building. Tragic memories of 2016 are flooding back to citizens as they dash to a safe area.
Check out the videos below for some footage of the quake.