VIDEO: BOSNIAN WAR CRIMINAL COMMITS SUICIDE IN COURT
Date: 2017-12-01
---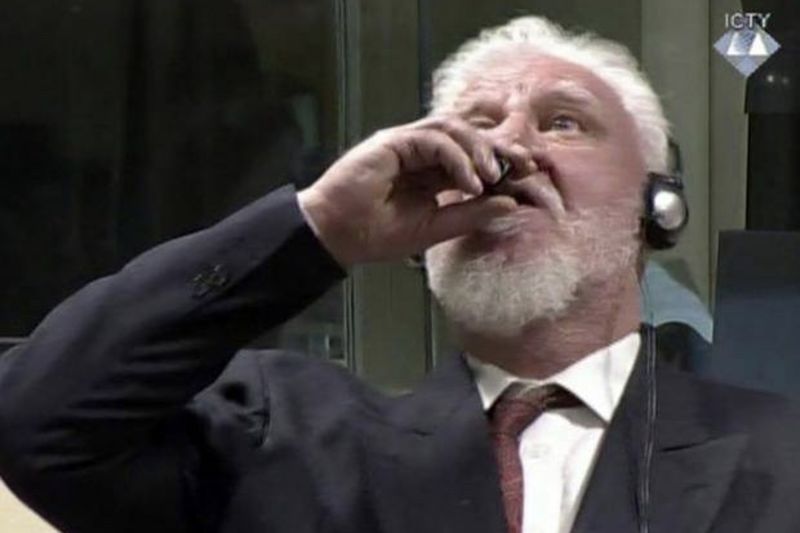 Slobodan Praljak, a Bosnian Croat war criminal, has committed suicide following the result of his court case that upheld his guilty conviction of crimes against humanity after he was sentenced to 20 years in prison.
In court, Praljak drunk a brown liquid from a small vile and announced, "I have taken poison" seconds after the judge announced his verdict.
Praljak was on trial for the genocide and torture of Croatian and Bosnian citizens as part of a criminal enterprise that aimed to "ethnically cleanse" Bosnia and Herzegovina of Muslims. Praljak was one of many that were convicted for their involvement in this rebel group. Two other members that were sentenced to prison had also committed suicide such as Slavko Dokmanovic who hanged himself in his cell, as well as Milan Babic who also killed himself in his cell in 2006.
Authorities are not yet certain as to what the deadly substance in the vile was and have begun conducting tests as soon as Praljak was rushed to the hospital. Although Praljak was convicted as a criminal, he had a lot of support from former soldiers and citizens who saw him as a war hero. Hundreds of people met in Mostar to honour Praljak and the sacrifice that he had made.
Although the opinion on Praljak is still ethnically divided, he will certainly go down in history for his antics. Check out the video below for more.