VIDEO: CASH-IN-TRANSIT WORKERS HAVE HAD ENOUGH
Date: 2018-06-12
---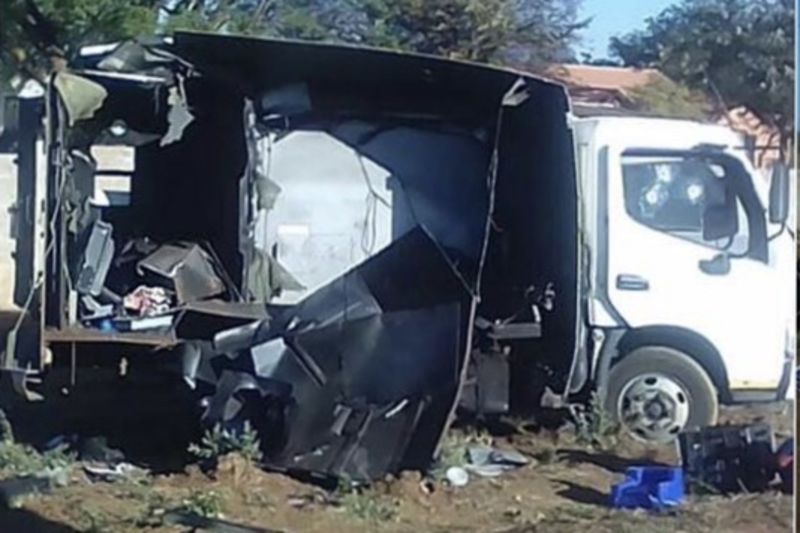 The members of South Africa's trade unions, Fedusa and the Motor Transport Workers Union's (MTWU), are putting their foot down and speaking out against the senseless violence that cash-in-transit drivers are facing on a daily basis.
Cash-in-transit heists have reached levels of crisis, with records showing that 159 attacks have occurred so far this year – in the space of just six months – while 2017 recorded 147 attacks across the whole year.
Experts say, "The cash-in-transit pandemic is understated ... the statistics show that in 2014, there were 180 cash-in-transit incidents. The cash-in-transit incidents in 2017 increased by 105% to 370 in just three years. The main reason for the extreme increase could be attributed to the fact that cash in transit vehicles are seen as 'soft and easy targets' due to under-investment in strong security measures and that the security companies focuses primarily on maximising profits."
Fedusa and MTWU have listed many weaknesses in the safety and security of the cash-in-transit industry which they perceive are some of the major reasons for the crisis:


The vehicles used are vulnerable and out-dated
There are not enough security officers guarding the vehicle and assisting in the process
The weak weapons and out-dated equipment that security officers are given to defend themselves
Security officers are not given adequate training
Low employee morale, high staff turnover and improper disciplinary action.
The lack of focus on basic safety precautions
The lack of support and follow through of MTWU submissions to numerous officials such as:
7.1 Minister of Safety and Security
7.2 Minister of Transport
7.3 Governor of the South Africa Reserve Bank
7.4 Nedlac
The workers will march across major cities to demand an end to the pointless violence that occurs frequently in Gauteng' Mpumalanga and KwaZulu-Natal.
The unions are fighting for the workers to be given more robust weapons to be able to defend themselves more effectively. They will also be demanding a salary increase for all cash-in-transit workers from R11 000 to R20 000 because of the increased risk associated with the job.
Times Live reports the routes that the protest will follow: "In Johannesburg' an estimated 1'000 MTWU members accompanied by 60 armoured cash trucks will depart from 20 De Korte Street in Braamfontein at 9.30am and proceed down Jorissen' Biccard and Simmonds Streets to Beyers Naude Square in the CBD' where a Memorandum of Demands will be handed over to Gauteng MEC for Security and Safety' Sizakele Nkosi-Malobane."
Durban workers will be meeting at Gugu Dlamini Park at the Workshop at 8:30am before marching along Masabalala Yengwa Avenue and right into Somtseu Road towards Hoy Recreational Park' where they will present Provincial Police Commissioner with a Memorandum of Demands.
Protesting workers in Cape Town will begin at Keizersgracht at 10am in Cape Town central, guarded by 4 cash-in-transit vehicles ' move down Darling Street into Adderley Street'march towards Wale Street and finish at the Western Cape Provincial Parliament' where a memorandum will be handed over.
In Bloemfontein' protestors will meet at Mahungra at 7am and move along Mandela Street' and finally into Charlotte Maxeke Street on to the Provincial Commissioner's office' where they will hand over the memorandum.
In Nelspruit' the protestors will assemble at G4S offices at 6am and march to the rugby stadium and onto the Nelspruit Police Station' where they will hand over the memorandum to the Provincial Police Commissioner.
Hlasinyane Motaung was speaking for all of the protesting workers when he said: "They must improve, standardise and regulate the vehicles ... Our people are being killed in these robberies." The workers feel that the government is doing little to protect them against these attacks.
Fedua says that if the strike goes on for an extended amount of time, it could have serious effects on the economy, "It is important to note that ATMs must be loaded daily, and a one-day strike will create scarcities of cash money, a two-day strike will cause large sums of cash piling up with retailers and a three day strike will cause an economic crisis."
Motorists have reported major traffic backups as the cash-in-transit vehicles stage a go slow. After which they plan to march to Gauteng Safety MEC's office, where they will hand over a memorandum. The parliament's police portfolio committee is meeting later this week to discuss the important issues and possible solutions to the cash-in-transit heist crisis including:
The ability and preparedness of the South African Police Services
The communication and collaboration between SAPS and private security companies
The hiring procedures employed in the police force and private security industry
The condition and standard of training' vehicles and protective gear of security officers
The governing environment and the contribution of PSIRA (Private Security Industry Regulation Authority)
The collaboration between the banking and law enforcement sectors
Ways in which technological modification to stop the factors and influences that lead to cash-in-transit heists
The discussions will begin on the 13th of June 2018 in parliament.