VIDEO: H&M STORES TRASHED FACING RACISM ACCUSATIONS
Date: 2018-01-15
---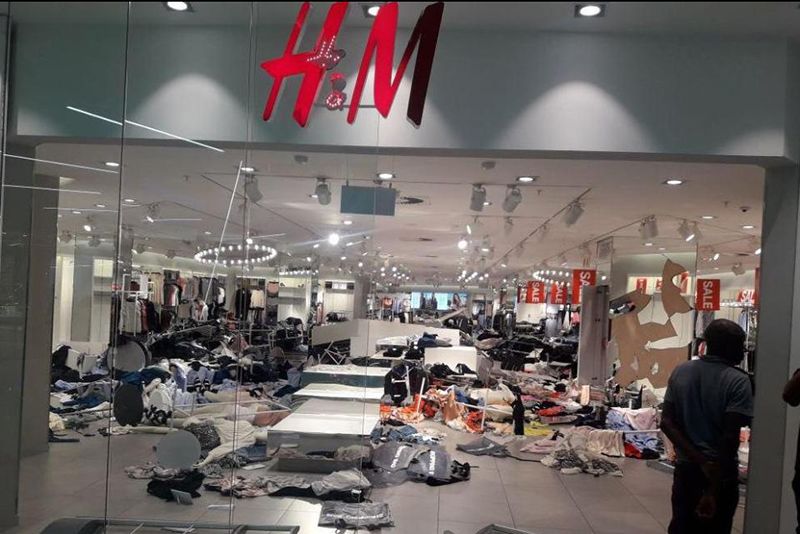 H&M customers evacuated the shop after protesting EFF members trashed the store in a movement against "racist clothing".
Accusations were hurled at the retailer last week regarding an ad for hoodies that featured two children, one white wearing an orange hoodie printed with "Mangrove Jungle Survival expert", and a black child wearing a green hoodie printed "Coolest Monkey in the Jungle".
After previously being accused of having a lack of racial diversity, the retailer faces a second, bigger accusation of racism followed by EFF members storming the stores in Pretoria, Johannesburg and Cape Town. Clothing racks were thrown across the store and dummies were kicked over and broken, causing the stores to shut their doors for the week. The police were called to control the situation and were forced to use rubber bullets to disperse the crowd and continue to investigate CCTV footage in order to identify the looters.
The EFF has also threatened to trash other branches and return to stores that open their doors again. The last quarter of 2017 saw many investors selling their shares in the company which have plummeted further since the racism accusations. H&M responded by saying: "We strongly believe that racism and bias in any shape or form, deliberate or accidental, are simply unacceptable. We have got this wrong and we are deeply sorry."
EFF leader Julius Malema said that he hopes that the international retailer has been taught a lesson and that no retailer should humiliate or make jokes about black people. It has also caused a major worldwide backlash as singer "The Weeknd" ended his partnership with H&M following the incident.
Meanwhile, the mother of the model, Terry Mango, a Kenyan Swedish national has been attacked via social media after she posted that she did not view the hoodie as racist and was with her son when the hoodie in question was modelled. Mango stated that she feels it is an unnecessary issue and does not share the same views as the protesters. The protesters have since turned against Mango, calling her a "monkey".
H&M continues to apologise and is currently in negotiations regarding reparation strategies.