Home
/
News
/
News
/ Video: Protea Glen Residents, Ironically, Fear For Their Livelihood As It Becomes Battle Ground For Illegal Land Grabs
VIDEO: PROTEA GLEN RESIDENTS, IRONICALLY, FEAR FOR THEIR LIVELIHOOD AS IT BECOMES BATTLE GROUND FOR ILLEGAL LAND GRABS
Date: 2018-05-08
---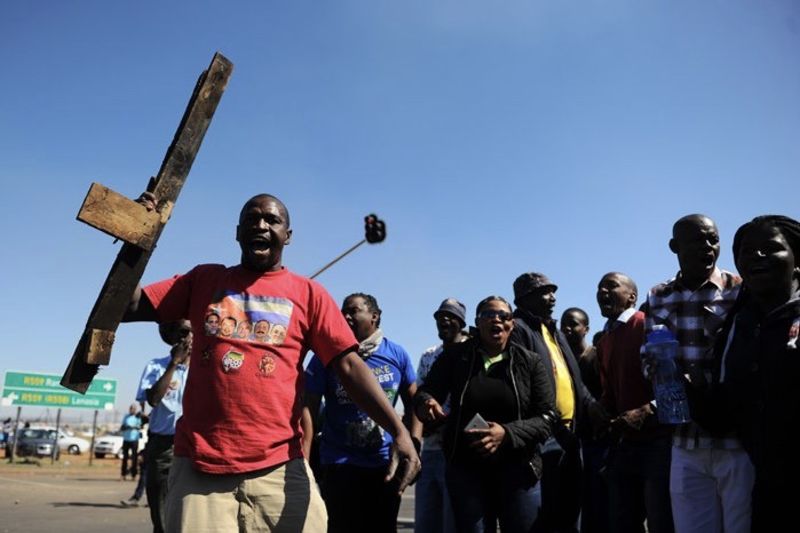 The residents of Protea Glen woke up to the sounds of gunshots and angry protesters demanding land, an on-going battle all over South Africa which citizens have now taken into their own hands.
Residents of Protea Glen stepped into the battle with the authorities to face off with the people trying to occupy the land who refused to back down, saying that the owner of the land had given them permission to build structures. Police were called to the area on Sunday to remove the illegal structures that had been hurriedly built by the land occupiers, who have since fled the area.
Protests continued on Monday morning with burning tyres used to block roads around and into the Protea Glen area. Gauteng police spokesperson, Captain Kay Makhubele, said to EWN that: "They don't want anyone to come to their area and erect shacks on the open space. They are tired of people who are coming to their area and occupying spaces. We cleared the roads at 2pm and there was no damage to any property".
Residents of Protea Glen have warned people to stay away from the piece of land near Soweto. Phelelani Sindani, resident and member of the area's crisis committee, said that: "The only problem we have here is when they come, they come in numbers. We saw it fit today not to go to work and close the roads. We don't even know who these people are. This land belongs to the City of Johannesburg and they are going to build RDP houses here." He said that they "...are concerned that a wave of crime would hit the area if the invaders illegally erected shacks on the land. When they come they are going to want electricity and they are going to put up cables and steal it from us. They think we, that live in houses, are rich so we will have a lot of break-ins."
Protesting residents gathered on Randfontein Road in Protea Glen demanding that Johannesburg Mayor, Herman Mashaba, discusses their concerns. While others outside the areas are protesting to demand housing and access to land from the government. There continues to be a heavy police presence in the area as they monitor the tenuous situation.
Human settlements MEC, Dikgang Uhuru Moiloa, called on government representatives to meet to resolve land and housing problems. "Government representatives in all spheres should be aware that they are elected by people to serve them," he said. Uhuru said that he would meet with all the Gauteng mayors in an attempt to resolve the issue. Tensions are at an all-time high among the land committee as they have already received over 140 000 submissions about changes to land ownership, which means that they have requested an extended deadline from the National Assembly to report back by mid-September instead of the 30th of August.
The written submissions and request for oral submissions opened on April 13 and will close on May 31 and the committee is left with the cumbersome task of sifting through the genuine submissions and automated responses that some organisations encouraged their members to send, often multiple times.
While the land expropriation process has turned into a nightmare of sifting through hundreds of thousands of submissions and inviting those with valid applications in front of the committee, South Africans are getting impatient.
This brings up a whole new twist on how government's plan for delivering land without compensation is effecting those who already live in RDP housing – ironically, they are the ones crying foul when others who feel they deserve their own piece of land choose to be their neighbours.