VIDEO: TERRY CREWS THREATENED BY PRODUCER TO DROP THE SEXUAL ASSAULT CASE
Date: 2018-06-28
---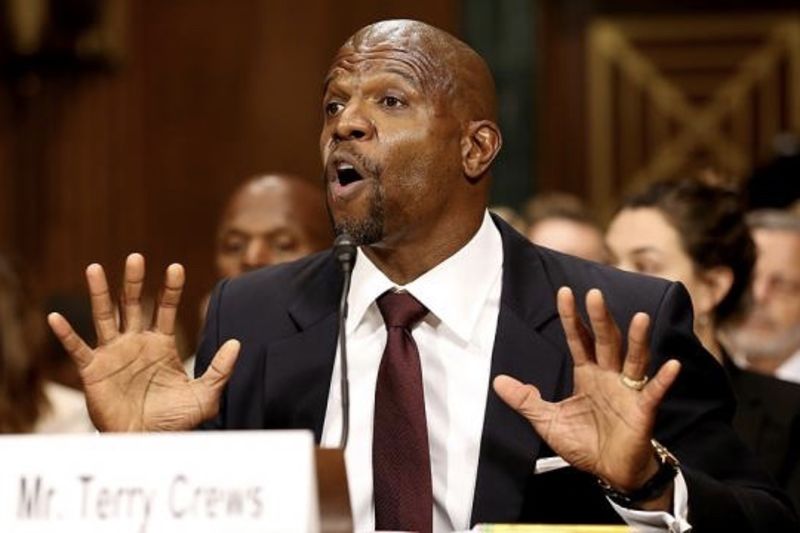 Terry Crews set out on a mission last year to fight against sexual abuse after announcing on Twitter on the 10th of October 2017, "My wife n I were at a Hollywood function last year n a high level Hollywood executive came over 2 me and groped my privates.
(sic)" Crews has since filed a civil suit against the Wiliam Morris Endeavor agency and talent agent, Adam Venit, who has been temporarily suspended.
Crews embarked on his journey of fighting against sexual assault after he was inspired by the women dominated #MeToo movement and his testimony played a part in the hearing about the Sexual Assault Survivors' Bill of Rights. His opening statement included a declaration of how honoured he feels to use his platform and story to "help create additional civil rights protections for survivors across the nation under the Sexual Assault Survivors Bill of Rights."
His testimony was emotional and heartfelt as he explained, "A lot of people don't believe that a person like me could actually be victimised. What happened to me has happened to many, many other men in Hollywood." When the senator asked why a large man like Crews did not confront his abuser and stop him he replied, "Senator, as a black man in America," he said, then stopped as he teared up.
"You only have a few shots at success," he said. "You only have a few chances to make yourself a viable member of the community. I'm from Flint, Michigan. I have seen many, many young black men who were provoked into violence and they were in prison, or they were killed."
After identifying the abuser as Adam Venit, he recounted the incident, "The assault latest only minutes but what he was effectively telling me, while he held my genitals in his hand, was that he held the power, that he was in control," he said. "I'm not a small or insecure man, but in that moment, and in the time following, I've never felt more emasculated."
Crews recently announced that he would be pulling out of the Expendables 4 after the producer threatened that "there would be trouble" if he didn't drop the sexual assault case. The producer, who was not named, allegedly called Crews' manager demanding that he drop the case in order to be able to star in the movie. "Simply because this same producer is under his own sexual assault investigation," Crews stated. "Abusers protect abusers, and this is one thing I had to decide, whether I was going to draw the line on. Am I going to be a part of this or am I gonna take a stand, and there are projects I had to turn down."
Crews encouraged more men to come forward with their sexual abuse experiences saying that "toxic masculinity permeates culture." 50 Cent further ingrained the idea of toxic masculinity as he mocked Crews' sexual assault case with a tasteless Instagram post of a shirtless Crews with the caption: "I got raped. My wife just watched."
Could this be the beginning of men joining the fight and coming forward to face their abusers?